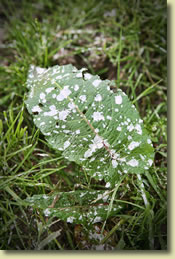 In 2001 Toby Annabell was farming in Normanby, Hawera. Toby saw an opportunity in the Agricultural Spraying industry, which inspired him to build a truck and create his own spraying business. From there over the past 10 years he has continued to build the business up to where he now has 5 trucks operating throughout Taranaki, Wanganui, Marton and Taihape.
We are proud to offer our clients a full range of spraying services with proof of placement mapping technology GPS systems.
Spray It Field Day - Kaponga
By Richard Woodd
The Hawera agricultural machinery boffins who introduced particle fertilizer spraying to Taranaki, have come up with a new development: spraying seed onto pasture, in a lime slurry medium.
They revealed all at a Kaponga field day on March 15, 2011 which included a demonstration of their purpose-built 16 metre wide boom spraying rig.
Toby Annabell, joint owner of Spray It, says the seeding method has proven "fantastically successful" in on-farm trials, mainly with chicory and plantain.
He is confident grass seed can also be sprayed, but it still requires trialling.
"One of the great advantages is the lower cost of seed spraying," he says. "It's about half the cost of direct drilling and it does not disturb pastures. No preparation is required in pastures without a significant weed problem."
Agronomist Elton Mayo of Agricom talked about the economics and feed values of over-sowing chicory and plantain in cattle and sheep pastures; James Buckley from Nu-Farm covered weed control options.
Spreading Sandfords became a partner in Spray It to help with the development costs. The Man-based truck outfit was designed and built by Lintern Engineering, Hawera. It was put to work two years ago spraying powdered fertilizers and other products: Eco-N, urea, gibberellic acid, lime, reactive phosphate rock and potash in any combination.
The only other similar rig they could find to compare with was in Canterbury. What they built was then, and probably still is, the most sophisticated unit of its kind in New Zealand.
"Because we are spraying seed mixed with lime and water pumped at high pressure through correct-sized boom nozzles, the spread is very even," Toby Annabell says. "It goes straight into the existing pasture cover and germination in normal conditions is very good. An agitator in the mix tank keeps the seed in suspension and the rate of application is controlled by the mix ratio and our GPS navigation. In other words, there is no wastage."
The big test was spraying chicory and plantain last November 4 onto a dairy pasture. It was extremely dry at the time and would normally be done in autumn or spring," Toby Annabell said.
"It was quite risky and we didn't have much confidence in the germination. But it eventually came away very well. The pasture is a seed nursery, even in dry times. And the farmer can continue his normal grazing without affecting seed germination or growth.
"We did one trial where the farmer scratched up the pasture surface with his old rotatiller, we sprayed the seed on, then he rolled it. It germinated very quickly and produced a superb crop. You could do it with chain harrows."
"One farmer told me we are ahead of the times, and we've always known that.
"We've invested in the gear, proven the applications work, and we're now able to offer a package with confidence to Taranaki farmers."
Super Truck Turns Dry Fert Into Spray
Taranaki's first farm spraying truck designed to apply particle fertilizer products, has been designed and built in Hawera and is ready to start work.
The vehicle sprays material ground as fine as talcum powder, mixed on board with water to form a slurry.
There's no waste, nothing blown away by the wind, and the fertilizer is immediately available to the plant and soil.
Spray It owner Toby Annabell, who was the initial brains behind the project, says turning granulated fertilisers into a sprayable slurry is a logical step and he believes there is major growth potential, particularly with the influence and knowledge of his business partners.
"Going in with Toby Annabell is a very good fit for us, in terms of a business investment and to expand our on-farm contracting services," says Sandfords general manager Phil Sandford.
"It's always been a passion of mine to build a truck that can spray on particle fertilizer," says Mr Annabell, who has been agricultural spray contracting for ten years.
"Some years back we were doing trials for Eco-n and we used a fine ground lime as a trial substitute for it. I asked the farmer if I could use his paddocks and he came back a few weeks later and asked me how much nitrogen I'd put on. When I told him it was just pure lime, he said they were some of his best paddocks as a result.
"That convinced me there was more potential in this business than just spraying liquid fertiliser and herbicides."
One day he called Mr Sandford and said: " 'You're a truck man Phil, I'm a sprayer, would you be interested in putting our heads together and doing something?'
"He came back and suggested that they buy into my company and consider the bigger picture. So that has allowed us to build this very special spray truck."
They are promoting it as "Fine Fert 100," which reflects the finely ground material, (under 100 microns particle size).
"It's so fine you have to add water, otherwise it would all blow away," says Mr Sandford.
"There are three types of fertiliser: totally liquid, granulated solid and fine ground.
The finer the grind the quicker it works. When it's reduced to sub-100 microns [one millionth of a centimetre] it's available pretty much immediately, whereas normal ag lime for example will take up to five years to be totally available because of the coarser granule size range."
"What we can spray is Eco-N, urea, gibberellic acid, lime, reactive phosphate rock, potash. And we can do any combinations of these," says Mr Annabell.
The two spray booms total 16 metres in length and can be raised hydraulically to clear the trailer hitch. Product can be delivered on the trailer and in combination with the truck-mounted Palfinger Hiab crane, the outfit is a self-contained one-man operation. All the client needs to supply is clean water for the 5000 litre mixer tank.
The powder is dropped in through a hopper. Inside the tank is a paddle-type agitator to keep the slurry moving. It can be run in either direction and is speed adjustable. When mixed the slurry looks like thick paint.
"We imported an electronic flow meter from Germany which tells the GPS how much flow is going out and the GPS tells the pump to speed up or slow down, according to the rate of application required from the nozzles. That can be altered in the cab at the touch screen control panel," says Mr Annabell.
"Finding the right flow meter was our biggest challenge. It cost about $9000 and it's accurate to within 0.1 percent. We could find nothing suitable in New Zealand, Australia, or Holland."
Is this the first of a fleet?
Phil Sandford: "We were keen on getting involved in spraying and obviously we'd like to extend outside Taranaki. Wanganui-Manawatu are very strong in cropping and cropping really suits this slurry truck. We'll see how this one goes and consider building another.
It will depend somewhat on the dairy payout.
"With fertiliser there is an ever increasing requirement for proof of placement and the Taranaki Regional Council, Fonterra and the meat works want to know exactly what has been spread on the farm. The technology to provide that proof is forcing us to look at partnerships.
"Toby's fleet uses the same GPS technology that our spreader trucks have.
Toby Annabell says it's not blind faith on his part to invest heavily in new gear.
"When I started talking to farmers I was told: 'It's about time someone did this.' I don't believe we'll have any problems keeping the truck working. Nobody else is doing it at the level we are capable of. We're way ahead and we intend to stay there."